---
---
---
---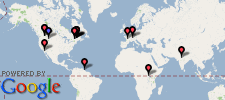 For more on this topic:
368,379 people killed, 306,096 injured and over $2,815,931,000 in economic damages


What's the harm in fearing the apocalypse?
For thousands of years, people have been predicting the end of the world. Every single one of them has been wrong. Read more about apocalypse fear
Here are 1,810 people who were harmed by someone not thinking critically.
---
---
Emmanuel Dutoit

Age: 3 months
Morin Heights, Quebec, Canada

Murdered
October 4, 1994

He and his parents were brutally murdered, and then home was burned. They had been members of the Order of the Solar Temple, a fringe religious sect. Read more & more
---
---
Stan Jones

Age: 63
Bozeman, Montana

Argyria (irreversible skin condition)
2002

In 1999 he started taking colloidal silver. (Some feared antibiotics would become scarce due to Y2K). It turned his skin greyish blue. He ran for the U.S. Senate as a Libertarian candidate twice, never winning. Read more & more
---
---
Chayya Lal

Age: 16
Asharita, Sarangpur, India

Suicide
September 9, 2008

She was traumatized by TV programs about the opening of the Large Hadron Collider, which talked about the end of the world. Her parents told her not to worry and diverted her attention to no avail. She drank a pesticide from her father's farm. Read more & more
---
---
---
Sammy Weaver

Age: 14
Ruby Ridge, Idaho

Died
August 21, 1992

His mother had a "vision" of a mountain-top home. His father believed in a Zionist consipiracy to rule the world and that apocalypse was near. They reacted badly when law enforcement arrived at their home, and Sammy ended up dead. Read more
---
Vicki Weaver

Ruby Ridge, Idaho

Died
August 21, 1992

She had a "vision" of a mountain-top home. Her husband believed in a Zionist consipiracy to rule the world and that apocalypse was near. They reacted badly when law enforcement arrived at their home, and two people died. Read more
---
---
39 cult members

Rancho Santa Fe, California

Mass suicide
March 26, 1997

The members of the Heaven's Gate cult convinced themselves that a UFO arriving with Comet Hale-Bopp would take them away. They committed mass suicide. Read more
---
48 people

Age: 10 to 72
Cheiry & Granges-Sur-Salvan, Switzerland

Murder / suicide
October 5, 1994

New age doomsday cult Read more & more
---
---
778 cult members

Kanungu District, Uganda

Mass murder
March 17, 2000

The leaders of this Ugandan church predicted that the world would end on January 1, 2000. Church members sold all their belongings and stopped work to prepare. When nothing happened, the situation spiralled toward disaster. Read more & more
---
913 people

Jonestown, Guyana

Mass murder/suicide
November 18, 1978

Jim Jones led a popular church called the People's Temple, but became increasingly paranoid that a nuclear holocaust was imminent. He moved the entire church to Guyana. When people came to ask questions, tragedy ensued. Read more & more
---