---
---
---
---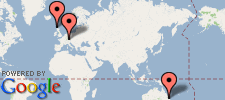 368,379 people killed, 306,096 injured and over $2,815,931,000 in economic damages


What's the harm in Breatharianism?
Breatharianism or inedia is the belief that the human body can exist without sustenance (food and/or water) for great periods of time. Needless to say, this can end tragically. Read more about Breatharianism
Here are 3 people who were harmed by someone not thinking critically.
---
Timo Degen

Age: 31
Munich, Germany

Died
March 1997

After he learned of Breatharianism from a website, this kindergarten teacher decided to try it out. He was fasting for three weeks when he had to be hospitalized in a coma, and later died. Read more & more
---
Verity Linn

Age: 49
Loch Cam, Sutherland, Scotland

Died
September 16, 1999

She learned of breatharianism via the internet, and decided to go into a complete fast while on a camping trip. Her body was found two weeks later. Read more & more
---
Lani Marcia Roslyn Morris

Age: 53
Ormiston, Brisbane, Queensland, Australia

Died
July 1, 1998

She traveled from Melbourne to initiate into Breatharianism with a couple already involved. She died after 7 days without food. The couple were convicted of manslaughter. Read more & more & more
---