---
---
---
---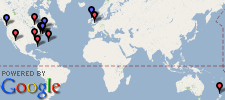 For more on this topic:
368,379 people killed, 306,096 injured and over $2,815,931,000 in economic damages


What's the harm in being a vegetarian child?
There is no harm in a properly balanced vegetarian diet. But some parents choose vegetarianism for their children without doing their homework. Because a child's nutritional needs differ from that of an adult, this can result in tragedy. Read more about child vegetarianism
Here are 28 people who were harmed by someone not thinking critically.
---
Woyah Andressohn

Age: 5 months
Miami, Florida

Died (malnutrition)
May 15, 2003

Her parents follow a strict diet of uncooked organic foods for religious reasons. She weighed a fraction of what she should at her age. Her parents were cleared of manslaughter charges, but were convicted of neglect of their other children. Read more & more
---
Lorie Atikian

Age: 17 months
Ontario, Canada

Died (malnutrition, pneumonia)
September 25, 1987

Lorie's parents, concerned about modern food additives, were advised to give her an organic vegetarian diet. She was also treated with herbal & homeopathic remedies and an energy machine. Her parents were convicted of neglect. Read more
---
Eric & Laura Cottam

Age: 14 & 12
Nuangola, Pennsylvania

Died / malnourished
January 4, 1989

Though they had $3,600 available, their parents believed the money "belonged to God" and refused to spend it on food. The entire family was malnourished from a purely vegetarian diet. When Eric died, the parents were charged with homicide. Read more & more
---
Dakota Jubb

Age: 20 months
East Village, New York City, New York

Fractured ankle
January 10, 2007

His father is raising him as a "lifefoodarian". When he fractured his ankle, his father did not take him to the doctor, but fashioned splints from chopsticks. City officials intervened, taking custody of the boy. The father released a press release. Read more
---
Areni Manuelyan & her mother

Age: 9 months
Staines, Surrey, England

Died (malnutrition) / suicide
July 5, 2000

She died of a chest infection brought on by malnutrition, due to the fruitarian diet she was fed. Her parents pled guilty to child cruelty. Wracked with depression over the incident, the mother later committed suicide. Read more & more
---
Caleb Moorhead

Age: 6 months
Auckland, New Zealand

Died (malnutrition)
March 2001

Calebs parents, devout Seventh-Day Adventists, tried to feed him using a vegan diet and herbal remedies. He died of a Vitamin B12 deficiency. His parents were sentenced to five years in jail. Read more & more
---
Michaela, Caleb, Zion & Lily Parker

Age: 11, 9 and 3
Scottsdale, Arizona

Malnourished for years, family broken up
April 23, 2005

Their parents fed them a vegan diet and subjected them to enemas, under the direction of a naturopath who had never seen the children. The mother was sentenced to 30 years, the father awaits sentencing. Read more & more
---
Crown Shakur

Age: 6 weeks
Atlanta, Georgia

Died (starvation)
April 25, 2004

His parents were vegans and tried to feed him a diet of mostly soy milk and apple juice. He weighed only 3 1/2 pounds when he died. They were sentenced to life in prison. Read more & more
---
Iice Swinton

Age: 16 months
Queens, New York City, New York

Malnourished
November 2001

Her parents fed her a strict vegetarian diet and the results were disastrous. When she was taken into custody she had rickets, couldn't move, and was too weak to cry. Her parents were sentenced to 5 and 6 years in prison. Read more & more
---
A'maya Tamerry

Age: 10 months
Somerset, Bermuda

Died
March 1, 2001

Her parents relied on Irish Sea Moss because of their vegetarian lifestyle. She lost weight dramatically and died of malnutrition. A court found them guilty of manslaughter, but appeals are continuing. Read more
---
2 Canadian girls

Age: 5 & 9
Nanaimo, British Columbia, Canada

Malnourishment
March 2001

The father was distraught to find his daughters "as thin as Holocaust victims" under the strict vegan diet administered by his ex-wife. He complained to the Ministry for Children and Families. Read more
---
"Jane Roe"

Age: 12
Glasgow, Scotland

Rickets, degenerative bone disease
June 8, 2008

This 12 year old is in the hospital with a degenerative bone condition that has left her with the "spine of an 80-year-old woman." Lack of vitamin D from her strict vegan diet from birth is believed to be the cause. Police action is being considered. Read more
---
"Jane Roe"

Age: 13
St. Gédéon de Beauce, Quebec, Canada

Untreated illness
March 13, 2008

She has a rare illness that interferes with her kidneys and breathing. Her mother put her on a regimen of wheat-grass juice and raw foods and was withholding some of her medication. A court intervened and put her in the hospital for surgery. Read more
---