---
---
---
---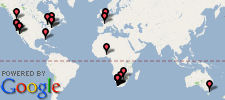 368,379 people killed, 306,096 injured and over $2,815,931,000 in economic damages


What's the harm in HIV/AIDS denial?
There are people who deny that HIV is actually the cause of AIDS, and some deny that AIDS is even a disease at all. Belief in this poses understandable risks to those infected. Read more about HIV/AIDS denial
Here are 365,026 people who were harmed by someone not thinking critically.
---
Ken Anderlini

Age: 45
Vancouver, BC, Canada

Died
April 17, 2007

Ken was a filmmaker and professor at Simon Fraser University. He did not believe that HIV is the cause of AIDS. He later died of a neurological disorder that his friends admitted mainstream medicine would have said was caused by HIV. Read more
---
---
Michael Bellefountaine

Age: 41
San Francisco, California

Died
May 10, 2007

Michael was a member of ACT UP San Francisco, a group that denies that HIV is the cause of AIDS. He later died of the disease. Read more & more
---
Sophie Brassard

Age: 37
Montreal, Quebec, Canada

Died
September 16, 2002

Sophie was HIV-positive and mother of two HIV-positive sons. She denied that HIV caused AIDS and refused conventional treatments for her sons. Her custody was revoked and she later died of AIDS. Read more
---
Ronnie Burk

Age: 47
San Francisco, California

Died
March 12, 2003

A poet, artist and activist, Ronnie belonged to ACT UP San Francisco, a group that denies that HIV causes AIDS. He died of the disease. Read more & more
---
Sylvie Cousseau

Age: 41
Paris, France

Died
March 31, 2001

Sylvie was diagnosed HIV positive, but pursued alternative treatments for her disease including homeopathy, acupuncture and drinking her own urine. She eventually died of AIDS. Read more & more & more
---
Mark Griffiths

Southwestern France

Died
October 2004

He ran an HIV denialist website. His friends speculated as to the cause of his death, but many believe it was due to AIDS. Read more & more
---
---
---
---
Christine Maggiore

Age: 52
Van Nuys, California

Died
December 27, 2008

She denied that HIV caused AIDS and refused to take medications for her herself or give them to her children. Her daughter Eliza Jane Scovill died in 2005, and she died in 2008. Read more
---
Peter Mokaba (politician)

Age: 43
Johannesburg, South Africa

Died
June 9, 2002

A strong youth leader during South Africa's struggle for freedom, he later denied the existence of HIV. He also described anti-retroviral medications for AIDS as "poison". He later died of the disease. Read more & more
---
Marietta Ndziba

Cape Town, South Africa

Died
October 2005

She was given a quack medical cure, including large doses of vitamins, for AIDS. She even endorsed the cure on the salesman's website. She later died of AIDS. Read more & more
---
Noxolo Ngalo

Du Noon, Cape Town, South Africa

Died
October 30, 2005

She was being treated with vitamin megadoses for AIDS, but died of liver failure. Read more & more & more
---
David Pasquarelli

Age: 36
San Francisco, California

Died
March 8, 2004

David was a leader of ACT UP San Francisco, a group that denies HIV causes AIDS. He eventually died of the disease. Read more & more
---
---
Eliza Jane Scovill

Age: 3
Los Angeles, California

Died
May 15, 2005

Her HIV-positive mother refused to take HIV medications while pregnant and did not have the girl tested. She told Air America the girl was very healthy. Seven weeks later she was dead of AIDS-related pneumonia. Read more
---
---
---
Huw Christie Harry Williams

Age: 41
St. Helens, Tasmania, Australia

Died
August 17, 2001

He was an editor of Continuum, an AIDS denialist newsletter, which folded after all its editors died. He did not believe AIDS was caused by HIV, and eventually succumbed to the disease. Read more & more
---
---
365,000 South African AIDS patients

South Africa

365,000 premature deaths
2000 to 2005

A study by Harvard researchers estimates that if the South African government had abandoned its President's AIDS denialist policies and provided antiretroviral drugs, it could have prevented 365,000 premature deaths. Read more & more
---
"Noluthando"

Bellville, Cape Town, South Africa

Died
June 2, 2005

Diagnosed with HIV in 2002, she was was on a waiting list for antiretrovirals. She started taking an alternative treatment, and in three days she could not even walk. Soon she was dead. Read more
---
"Ntombekhaya"

Khayelitsha, Cape Town, South Africa

Died
March 27, 2005

HIV positive, she was being treated for TB when someone offering alternative remedies contacted her. She stopped taking her TB medicines and later died. Read more
---
"Patient X"

Cape Town, South Africa

Died
October 8, 2005

He was being treated by a quack when his disease got out of control and he was hospitalized. He never had a chance to beat AIDS because of the time he wasted on the treatments. Read more
---