---
---
---
---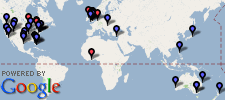 For more on this topic:
368,379 people killed, 306,096 injured and over $2,815,931,000 in economic damages


What's the harm in believing in psychics?
Psychics are people who claim they can predict the future, read other people's minds or otherwise obtain information that would be inaccessible. No psychic has ever scientifically proven their talent. Read more about psychics
Here are 1,315 people who were harmed by someone not thinking critically.
---
Pam & Craig Akers

Richwoods, Missouri

Told their son was dead when he was not
February 26, 2003

The Akers are the parents of Shawn Hornbeck, a child who was kidnapped. Sylvia Browne told them he was dead on national television. Four years later, he turned up quite alive. Read more
---
Isabella Denley

Age: 13 months
Kew, Victoria, Australia

Died (untreated epilepsy)
October 19, 2002

Isabella was prescribed medications for her epilepsy. Instead of using them, her parents consulted an iridologist, an applied kinesiologist, a psychic and an osteopath. She was being treated purely with homeopathic medication when she died. Read more & more
---
Florentino V. Floro Jr.

Age: 54
Manila, Philippines

Fired from his job as judge
April 2006

He claimed that three invisible mystic elves helped him render decisions and heal people in his chambers. The Supreme Court ruled that psychic powers have no place in the court room and fired him from his job. Read more & more
---
Jackie Haughn

Age: 36
Cresskill, New Jersey

$220,000
July 2006

Via a flyer on her car, Jackie found a psychic, who she visited. Eventually she lost half her life savings to someone who is an experienced con artist. Read more
---
Delores Hoffert

Miami, Florida

Left broke and widowed
2002

Her husband emptied his bank account for a psychic that said she could cure his cancer. Now he's dead and she has no retirement funds. Read more
---
Leroy Hoffert

Age: 87
Miami, Florida

$300,000
2002

A psychic claimed she could cure his cancer. He emptied his bank account paying her and still died of cancer. Read more
---
Christine Jessop

Age: 9
Queensville, Ontario, Canada

Investigation of her abduction delayed
October 3 - 18, 1984

When she was abducted, psychics and dowsers flooded the police with tips to her location. Meanwhile a credible eyewitness report of a girl struggling in a car went uninvestigated for weeks. An inquiry concluded the investigation was botched. Read more
---
Town of La Grulla, Texas

La Grulla, Texas

$53,700 embezzled
Feb 2002 - May 2003

The mayor and bookkeeper of the town allegedly embezzled thousands in federal funds to pay for psychic consultations including tarot readings. Read more
---
Laverne Landis & Gerald Flach

Age: 48 & 38
Gunflint Trail, Grand Marais, Minnesota

Died / Hospitalized
November 15, 1982

They learned of UFOs at a psychic fair. He believed he was receiving messages from them through her. They travelled to a remote area and awaited a UFO arrival. They ran out of supplies and she died of exposure & starvation. Read more & more
---
Colleen & Victoria Leduc

Age: 11
Barrie, Ontario, Canada

False accusation of child abuse
May 30, 2008

A teaching assistant went to a psychic. She was told a student with a "V" name was being abused. The school called Victoria's mom and reported this to the child protection agency. The tracking device worn by the child proves no such thing occurred. Read more
---
Douglas Lonneker

Age: 42
Wilson, Wyoming

Scammed out of $487,000
2007

The New York psychic had been featured as a fraudster in a 2006 episode of ABC's "20/20". Unfortunately he had not seen it. She convinced him there was "evil in his life" and she could get rid of it for him. Read more & more & more
---
Sylvia Millecam (actress)

Age: 45
Boxmeer, Netherlands

Died (untreated cancer)
August 19, 2001

A popular television personality, she sought out alternative therapies for her breast cancer, including a new age psychic healer. Two of her physicians were later barred permanently from medical practice. Read more & more
---
---
Manik Murphy

Age: 15
Donabate, County Dublin, Ireland

Suicide
September 12, 2007

This good student had read Nostradamus and believed the world would end in 2007. The family talked with her about it, but weren't concerned. When she received some disappointing grades at school, she committed suicide by jumping in front of a train. Read more
---
Gerry Rowley

Age: 82
Stourbridge, West Midlands, England

£6,500
2003

A psychic convinced this retired blind man to allow him access to his bank account. He took thousands of pounds from it. The psychic got 18 months in jail. Read more & more
---
Audrey Sanderford

Tarrant County, Texas

Tortured by erroneous info
April 29, 1999

Sylvia Browne told her that her granddaughter had been abducted into slavery in Japan. In reality, the girl was already dead and nothing the psychic said was true. Months later, the truth came out. Read more
---
Thanos Savvides

Age: 34
Nicosia, Cyprus

$1,243 to lift a spell
December 6, 2007

After she offered to tell his fortune, a psychic told him he had to pay her to remove a curse placed by his enemies. A court later ordered her to return his money and put her in prison for 20 days. Read more & more
---
Elizabeth Smart's family

Salt Lake City, Utah

Told she was dead when she was not
July 2002

A remote viewing company had announced that she was dead and the location of her body was being sought psychically. In fact, she had been kidnapped and was very much alive. Read more & more
---
Shante Smith

Age: 26
San Antonio, Texas

$13,978
July 15, 2005

She sought out a psychic and tarot reader, who eventually bilked her out of thousands of dollars. Read more & more
---
Don Spiers & family

Perth, Australia

Tormented by psychic tips
February 2004

When Sarah Spiers went missing, psychics came out of the woodwork. Don Spiers: "They have been a huge torment to myself and my family in giving cryptic clues as to where Sarah might be." Read more & more
---
Susan Strasberg (actress)

Age: 60
New York, New York

Died (untreated cancer)
January 21, 1999

Diagnosed with breast cancer, she sought out a psychic healer from Russia, who later claimed to have cured her. She died from cancer three years later. Read more
---
Joyce Sutton

Stourbridge, West Midlands, England

£6,500
2005 - 2006

A psychic stole her checkbook, then said the ghost of her husband had hidden his will in a grandfather clock. It was a forgery. The psychic got 18 months in jail. Read more & more
---
John Tate

Aylesbeare, Exeter, Devon, UK

Victimized by useless tips about his missing daugh
August 1978 - 1986

When his daughter disappeared 25 years ago, John was inundated by offers from psychics to help. He listened at first, but eventually learned they were "ludicrous and laughable". Read more & more
---
1,000 people

Kamakura, Kanagawa prefecture, Japan

Defrauded for 'false' exorcisms
January 2003

Police arrested a man and his disciples who were selling exorcisms to people. Over a thousand people were approached in public and told they were possessed by a spirit, and then taken for between 30,000 and 1 million yen each. Read more
---
128 airline passengers

Fort Myers, Florida

Trips disrupted needlessly
March 27, 2004

A self-described psychic called in a tip that there might be a bomb on the plane. By the time the search was done, the flight had to be cancelled. Everyone was put on later flights. Read more
---
15 people

Oneco, Manatee County, Florida

$25,000 total fraud
January 31, 2008

They went to have their palms read, but the reader told them they had an ailment or were in imminent danger. They were told to give her money which would be blessed. The money never was returned, and police were called. Read more
---
25 supermarket workers

Hungary

Fired
February 2005

A supermarket chain took the personnel files of employees to a psychic, who identified more than two dozen of them as thieves. They were then fired. Read more
---
9 year old boy

Age: 9
Takoradi, Ghana

Died
April 9, 2008

He complained of being hot and ate excessively. He was taken to a spiritualist who told his parents that he was possessed by witchcraft and could not be cured. He was kept in a room until he died. The parents were arrested. Read more
---
"Mrs. A."

Southampton, England

£12,000
September 2003 - March 2004

She saw a dentist for cutting-edge treatments for jaw pain. She was told to take green algae to release mercury and other odd things. When the dentist announced the spirit of her dead mother was in the room, she reported her to the authorities. Read more
---
---
"John Doe"

Glenfield, Leicester, England

£7,000 to lift a curse
Summer 2003

A psychic convinced him he was victim of a curse, and that she could lift it for a fee. The psychic got 15 months in jail. Read more & more
---
Port Philip, Australia

Port Phillip, Australia

AUS $800,000 wasted so far
2004 - 2007

The "change management consultant" refers to herself as a white witch and claims powers of intuition gleaned from eastern religion, astrology and pranic healing. Hired by the local government, she created a "culture of fear." Lawsuits have resulted. Read more
---
residents of Gisborne, New Zealand

Gisborne, New Zealand

Town disrupted
January 16, 2008

After an American psychic predicted an earthquake for this town, residents clogged government and police phone lines with questions. Rumors spread further via internet web sites. Some fled the town. The quake never came. Read more
---
---
---
---
"Jane Roe"

Age: 53
Glenfield, Leicester, England

£48,932 to lift a curse
Summer 2003

A psychic convinced her that her relatives were cursed, and she could lift the curse for a fee. The woman gave her her life savings plus money borrowed from a bank. The psychic got 15 months in jail. Read more & more
---
"Jane Roe"

Age: 56
Poolesville, Maryland

Scammed of $100,000
2005

She met a psychic at a mall. After a few visits, she was told that her family was a victim of a "centuries old" curse that would require a cleansing ritual. She brought in her savings in cash, and soon it was gone. Read more
---
"Jane Roe"

Age: 26
Seattle, Washington

Bilked of over $200,000
August 8, 1999

She met two psychics at a video store who claimed she needed a "spiritual cleansing" to win back her boyfriend. She gave them her life savings and her parent's retirement money for a cure. They fled to Canada and were prosecuted years later. Read more & more
---
"Greg X"

Marriage destroyed
August 9, 2007

Greg's wife contacted Sylvia Browne for a reading. She told her "your husband is poisoning you" and she believed it. The result was a destroyed marriage. Read more
---
"Lisa X"

Age: 37
San Francisco, California

$15,000
1991

Lisa went for a psychic reading as entertainment. The psychic frightened her and eventually conned her out of thousands of dollars. Read more
---