---
---
---
---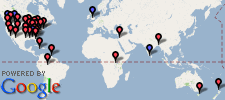 For more on this topic:
368,379 people killed, 306,096 injured and over $2,815,931,000 in economic damages


What's the harm in religious fundamentalism?
Some religious sects engage in beliefs or practices that go far beyond the norm, and are dangerous to the health or well-being of their own members. (We do not include hate crimes in this database). Read more about religious fundamentalism
Here are 2,370 people who were harmed by someone not thinking critically.
---
Saundra Arnold

Age: 13
Sacramento, California

Died (untreated intenstinal blockage)
1964

Saundra was ill for 18 days with an intestinal blockage before she died. Her mother, a member of the Church of the First Born, was convicted of manslaughter. Read more
---
Justin Barnhart

Age: 2
Beaver Valley, Pennsylvania

Died (untreated Wilm's tumor)
September 1981

Justin's parents belonged to Faith Tabernacle. They withheld medical care for his abdominal tumor until grew larger than a volleyball. Caught early, this type of tumor is curable 90% of the time. They were convicted of manslaughter. Read more
---
Amanda Bates

Age: 13
Grand Junction, Colorado

Died (untreated diabetes)
February 5, 2001

Her parents knew she was sick, and prayed for her. What they didn't know was she was diabetic. They never called for medical assistance until she was already dead. They later pled guilty to negligent child abuse. Read more
---
Jacqueline K. Beagley & her baby

Age: 25 / 0
Oregon City, Oregon

Died during childbirth
March 20, 1990

She was in labor for four days. She died of a massive infection after rupture of the fetal membrane. Authorities said she would have survived if she had delivered in a hospital. Read more & more
---
Ishmael Berger Belebbas

Olathe, Colorado

Died at birth (stuck in birth canal)
2000

Complications during birth can be dealt with, provided medical practitioners are present. Unfortunately Ishmael's parents belonged to the Church of the First Born, which believes in prayer instead of medicine. Read more
---
Allyson N. Bergmann

Age: 9 months
South Bend, Indiana

Died (untreated bacterial meningitis)
June 7, 1984

Allyson contracted a disease that is medically treatable. Her parents belong to Faith Assembly, which rejects medical care in favor of prayer. Allyson died and her parents were convicted of reckless homicide. Read more & more
---
Michael David Boehmer

Age: 4 days
Lake City, Florida

Died
March 15, 1990

Michael suffered a hemorrhage, and lost at least a quarter of his blood. His parents put cotton in his nose and prayed for him. The medical examiner later said he had a 90% survival chance if he had just been given a Vitamin K shot. Read more & more
---
John Wayne "Punkin" Brown Jr.

Age: 34
Parrottsville, Tennessee

Died
October 3, 1998

Even though his wife had died doing it, he continued practicing snake handling in his church. He died three years later, orphaning his five children. Read more
---
Daniel Brown

Age: 4
Parrottsville, Tennessee

Orphaned
October 3, 1998

Both parents were killed in snake handling ceremonies, three years apart. Daniel is now orphaned and living with grandparents who still practice snake handling themselves. Read more
---
Jacob Brown

Age: 7
Parrottsville, Tennessee

Orphaned
October 3, 1998

Both parents were killed in snake handling ceremonies, three years apart. Jacob is now orphaned and living with grandparents who still practice snake handling themselves. Read more
---
Jeremiah Brown

Age: 7
Parrottsville, Tennessee

Orphaned
October 3, 1998

Both parents were killed in snake handling ceremonies, three years apart. Jeremiah is now orphaned and living with grandparents who still practice snake handling themselves. Read more
---
Jonathan Brown

Age: 12
Parrottsville, Tennessee

Orphaned
October 3, 1998

Both parents were killed in snake handling ceremonies, three years apart. Jonathan is now orphaned and living with grandparents who still practice snake handling themselves. Read more
---
Melinda Brown

Age: 28
Parrottsville, Tennessee

Died
August 8, 1995

She died in a religious snake handling ritual, leaving her five children with only one parent. Her husband would die three years later, orphaning the children. Read more
---
Sarah Brown

Age: 5
Parrottsville, Tennessee

Orphaned
October 3, 1998

Both parents were killed in snake handling ceremonies, three years apart. Sarah is now orphaned and living with grandparents who still practice snake handling themselves. Read more
---
Desiree Camren

Age: 3
Cushing, Oklahoma

Died
February 1987

The medical examiner said that her life could have been saved with medical help, but her parents claimed their religious beliefs prevented that. They were sentenced for second degree manslaughter. Read more
---
Cedar Grove Methodist Church

Thorsby, Alabama

Church collapsed, insurance claim denied
June 22, 2006

Pastor Jeff Carroll thought that government should have no say in how he built his church, so he didn't hire an architect or consult the building code. The faulty building collapsed, but noone was injured. Read more & more
---
Libby Cooke

Age: 4 days
Brandon, South Dakota

Died (untreated pneumonia)
December 1978

Religion (End Times Ministries) Read more & more
---
Eric & Laura Cottam

Age: 14 & 12
Nuangola, Pennsylvania

Died / malnourished
January 4, 1989

Though they had $3,600 available, their parents believed the money "belonged to God" and refused to spend it on food. The entire family was malnourished from a purely vegetarian diet. When Eric died, the parents were charged with homicide. Read more & more
---
Travis Drake

Age: 14
Grand Junction, Colorado

Died (untreated ruptured appendix)
1982

Religion (Church of the First Born) Read more
---
Micaiah Edwards

Age: 15 months
Spanaway, Washington

Died
July 1991

Religion (Traveling Ministries Everyday Church) Read more
---
Patrick Foster

Age: 1
Philadelphia, Pennsylvania

Nearly died of untreated tumor
May 1997

He got sick around Christmas, and his parents prayed. Their church did not permit them to take him to the doctor. Fortunately a neighbor saw the gaunt and listless boy and told the authorities. He was hospitalized and a 6 pound tumor was removed. Read more
---
Hobart Freeman

Age: 64
Shoe Lake, Indiana

Died
December 8, 1984

Founder of the Faith Assembly, he refused all medical care and intervention and advised his flock to do the same. Some estimate that as many as 90 preventable deaths resulted. Many were children. He himself died at home after refusing treatment. Read more
---
---
Sarah Handy

Valley Springs, South Dakota

Died (bacterial pneumonia)
July 1981

Religion (End Times Ministries) Read more
---
George Went Hensley

Age: 75
Cleveland, Tennessee

Died
July 25, 1955

He was one of the founders of the modern Christian snake handling movement in the southeastern United States. He died from a snake bite. Read more & more
---
Sonia Hernandez

Age: 4
Lake City, Florida

Died (untreated pneumonia)
September 27, 1990

Sonia was never a healthy child, she had a brain disorder and numerous health issues. Then her parents joined End Times Ministry and stopped taking her to the doctor. When she died she was 4 but weighed only 14 1/2 pounds. Read more
---
Harrison Johnson

Age: 2
Tampa, Florida

Died (untreated wasp stings)
1998

Harrison was stung by wasps while his family was visiting church friends. They prayed over the boy but did not seek medical help because they believe doctors practice witchcraft. When an EMT was called 7 hours later, the boy was beyond help. Read more & more
---
Juliana Keys

Age: 6 months
Columbia City, Indiana

Died (twisted bowel)


Religious cult (Faith Assembly) Read more
---
---
Jason Lockhart

Age: 9
Enid, Oklahoma

Died (ruptured appendix)
1982

He died of a ruptured appendix. His parents were charged with manslaughter, but acquitted due to Oklahoma's religious exemption law. The law was later changed as a result of this case. Read more
---
---
---
Ian Lundman

Age: 11
Minneapolis, Minnesota

Died (untreated diabetes)
May 9, 1989

Ian had juvenile diabetes, but his family were Christian Scientists, and prayed over him. He eventually died. His father, who had left the church, sued for wrongful death. This was the first such suit to go to a jury. Read more & more
---
Bob Marley (musician)

Age: 36
Nine Miles, Jamaica

Died (untreated cancer)
May 11, 1981

In July 1977 he was diagnosed with malignant melanoma in his right big toe. His Rastafarian religious beliefs did not allow for amputation. He sought alternative therapies as the cancer spread to the rest of his body. He died in 1981. Read more
---
Stuart Matis

Age: 32
Los Altos, California

Suicide
February 25, 2000

He was raised a devout Mormon. His church told him his homosexuality was wrong and he was advised to undergo reparative therapy. He committed suicide and wrote in his note that he hoped his church would learn to accept homosexuals. Read more & more
---
Infant McCourt

Age: 0
South Carolina

Died (prolonged delivery)
July 1987

According to the coroner, the baby died due to lack of oxygen because of prolonged delivery. The county pathologist said the baby most likely would have lived if the mother had had prenatal care and medical attendance at delivery. Read more
---
---
Marie Meade

Age: 63
Lake City, Florida

Died (untreated breast cancer)
October 24, 1985

Marie was married to Charles Meade, the founder of End Times Ministry. They believe in faith rather than medicine, so she refused treatment for breast cancer for 2 years. After she died, her husband remarried 28 days later. Read more
---
Will Meyers

Age: 16
Lake City, Florida

Gravely ill for 7 months
October 22, 1990

Will had a variety of health problems that went untreated, and his weight dropped from 135 to 90 pounds. Finally his parents took him to a hospital and a heart operation saved his life. They were charged with felony child abuse and put on probation. Read more
---
Caleb Moorhead

Age: 6 months
Auckland, New Zealand

Died (malnutrition)
March 2001

Calebs parents, devout Seventh-Day Adventists, tried to feed him using a vegan diet and herbal remedies. He died of a Vitamin B12 deficiency. His parents were sentenced to five years in jail. Read more & more
---
Alex Dale Morris

Age: 4
Oregon City, Oregon

Died
April 16, 1989

He had fever and congestion. Members of his church anointed him with oil and laid hands upon him, praying for 46 days. A medical examiner later said the boy would have been "overwhelmed with fever and pain" and basic antibiotics would have cured him. Read more & more
---
Clayton Nixon

Age: 9
Altoona, Pennsylvania

Died
January 6, 1991

He got an ear and sinus infection that caused severe vomiting. His family belongs to a church that believes the Bible opposes all medical and surgical practice. He died weighing only 32 pounds. His parents were charged. Read more
---
Aaron Norman

Age: 10
Spokane, Washington

Died (untreated diabetes)
December 1987

He died of untreated diabetes. His family belongs to a church that believes "sickness is a result of sin and a wicked lifestyle." His father was convicted of manslaughter. Read more
---
Carla Northrup

Age: baby
Wilmot, Indiana

Died (untreated pneumonia)
1983

Her family belonged to Faith Assembly, a church whose death rates among infants was 270 percent higher than the statewide average. Read more
---
Jordan Northrup

Age: 4 months
Redding, California

Died (meningitis, pneumonia)
January 1991

Religion (Church of the First Born) Read more
---
Bonnie Parker

Winnsboro, Louisiana

Died, spend thousands of dollars


She believed a televangelist could cure her cancer, and she spend thousands on his ministry. Meanwhile, the evangelist spent $20 million on a private jet that was used for personal vacations. She died, and now her daughter would like answers. Read more
---
Wesley Parker

Age: 11
Barston, California

Died (untreated diabetes)
1971

An itinerant preacher had declared the boy healed. He later died of untreated diabetes. Read more
---
Aqsa Parvez

Age: 16
Mississauga, Ontario, Canada

Murdered by her father
December 10, 2007

Aqsa grew up in a Muslim family in Toronto. She disagreed with her father over whether she should wear a traditional head scarf in Canada. He murdered her in a rage. Read more
---
Billy Ray Reed

Age: 3 days
Grand Junction, Colorado

Died (untreated congenital heart defect)
July 2000

He died soon after birth of a common congenital heart defect. His parents belong to a church that believes in prayer rather than medicine. Read more
---
John David Ricks

Age: 9 months
Kimmel, Indiana

Died (untreated bacterial meningitis)
April 7, 1990

His parents were members of Faith Assembly. When he got a treatable infection, they never sought medical care. He died within days. Read more & more
---
Samuel Robidoux

Age: 11 months
Attleboro, Massachusetts

Starved to death
April 26, 1999

His father was the leader of a sect that rejects modern medicine. Samuel was fed only with breast milk, but since his mother got pregnant again there wasn't enough to nourish him. He starved to death. His father was sentenced to life in prison. Read more & more
---
Ricky Rodriguez

Age: 29
Tucson, Arizona

Suicide after committing murder
January 9, 2005

Ricky was a member of a cult whose leader approved sex between adults and children. That left Ricky with psychological problems that led to his murder/suicide in 2005. Read more & more
---
Joel Romine

Age: 20 months
Wilmot, Indiana

Died (emphysema)
March 1989

His parents "do not believe in seeking medical treatment and instead prayed at home for the child's recovery." He died of emphysema. Read more
---
infant Ruzicka

Age: 0
Brandon, South Dakota

Died
February 1981

The mother was in labor for four days and had convulsions. The baby was stillborn. Read more
---
U.S. Congressman Leo J. Ryan

Age: 53
Port Kaituma, Barima-Waini Guyana

Murdered
November 18, 1978

Visiting Guyana to investigate reports of abuse within a cult that had many members from his district, Congressman Ryan was murdered as he attempted to leave the country. Read more
---
Carie & Joshua Sealy

Age: 12 days, 15 months
Lansing, Michigan

Died (untreated pneumonia)
March 11 & 20, 1982

She was born at home and was jaundiced and having seizures, but her parents did not seek medical help. He was sent in for court-ordered surgery to remove a large tumor in his abdomen when the court intervened after her death. The father was convicted Read more
---
Rubel Sheikh

Age: 25
Bagerhat, Bangladesh

Died
August 20, 2008

He and his mother traveled 30 miles to a shrine to a Muslim saint. The tradition is to offer food to the crocodiles in the pond and to bathe in the water. When he waded into the water, he was attacked by the crocodile and killed. Read more & more
---
Lisa Sheridan

Age: 5
Cape Cod, Massachusetts

Died (untreated meningitis)
1967

Religion (Christian Science) Read more
---
---
---
baby boy & baby girl Still

Age: 0
Germantown, Pennsylvania

Died
February 1989

Deborah Still gave birth to twins without aid of a doctor or midwife. They were six weeks premature, but this is 95% survivable in a hospital. The girl died within 8 hours and the boy died the next day. Read more
---
---
Caleb Tribble

Age: 1
Northland valley, New Zealand

Died (untreated kidney infection)
December 5, 2004

When Caleb was sick, his parents chose to pray rather than take him to the doctor. His infection went undiagnosed and he died. His parents were charged with a crime. Read more
---
---
Shauntay Walker

Age: 4
Sacramento, California

Died (meningitis)
March 8, 1984

She died of a treatable illness. Her mother, a Christian Scientist practitioner, was asked why her daughter was not vaccinated but her dog was. She responded that the law required it for the dog. Read more
---
Andrew Wantland

Age: 12
LaHabra, California

Died (untreated diabetes)
1992

Andrew had diabetes, but his father was a Christian Scientist. He decided to pray over the boy, rather than seek medical treatment. Andrew died of complications of diabetes. Read more
---
Clay Whitmer

Age: 34
Los Altos, California

Suicide
March 20, 2000

He was raised a Mormon and was gay. This drove a rift between him and his family. When his good friend Stuart Matis threatened suicide, he planned to talk him out of it but did not arrive in time. Distraught, he took his own life. Read more
---
---
Joel Winkelman

Age: 3 weeks
Ohio

Died (untreated pneumonia)


His parents believed that "the best physician is Jesus." He died as an infant of pneumonia without receiving medical treatment. Read more
---
---
---
Sean Woodrun

Age: 6 months
Nobles, Indiana

Died (untreated pneumonia)
April 1990

Religious cult (Faith Assembly) Read more
---
Kyra Wright

Age: 10 months
Cortez, Colorado

Died (untreated viral pneumonia)
1997

Religion (faith healing) Read more
---
---
137 Blackfeet reservation residents

Blackfeet Indian Reservation, Browning, Montana

Measles
1985

One child whose parents claimed a religious exemption from vaccination was the source of a measles outbreak that affected 137 people. Read more
---
190 Canadian children

Agassiz, Kent, BC, Canada

Mumps
February - August, 2008

A religious community with a low rate of vaccinations was the source of a mumps outbreak. 116 Confirmed and 74 suspected cases occurred in a region that normally has 10. Mumps is easily preventable via vaccine. Read more
---
3 newborn boys

Age: 8 days
Williamsburg, Brooklyn, New York City, New York

Death, herpes infection, brain damage
2003 - 2004

A mohel in New York inadvertently infected several boys with Type 1 herpes by performing metzitzah b'peh, a circumcision technique used mainly in ultra-Orthodox Jewish communities. One of the boys died, another suffered brain damage. Read more & more
---
---
50 Catholics in India

Age: 12 - 60
Thiruvananthapuram, Kerala, India

Blinded
February 22, 2008

Seeking a vision of the Virgin Mary, they looked up at the sun for great lengths of time. Blindness and permanent retinal damage was the result. Now local churches are disavowing the "miracle" as victims pour into hospitals. Read more
---
6 children

Philadelphia, Pennsylvania

Died (untreated measles)
1991

Religion (Faith Tabernacle) Read more
---
6 people

Amazon basin, Brazil

Tortured, Murdered
November 14, 1998

Religion Read more
---
76 people

Waco, Texas

Died
April 19, 1993

When ATF agents showed up at the Branch Davidian complex in Waco to serve a warrant, the members of the sect were not cooperative. The situation spiralled out of control and tragedy resulted. Read more & more
---
778 cult members

Kanungu District, Uganda

Mass murder
March 17, 2000

The leaders of this Ugandan church predicted that the world would end on January 1, 2000. Church members sold all their belongings and stopped work to prepare. When nothing happened, the situation spiralled toward disaster. Read more & more
---
913 people

Jonestown, Guyana

Mass murder/suicide
November 18, 1978

Jim Jones led a popular church called the People's Temple, but became increasingly paranoid that a nuclear holocaust was imminent. He moved the entire church to Guyana. When people came to ask questions, tragedy ensued. Read more & more
---
---
"Cook Islands boy"

Age: 6
New Zealand

Died
July 2000

Surgeons removed a brain tumor, but his parents refused the follow-up radiotherapy on religious grounds. Five months later his tumor grew back and he died. Read more
---
"John Doe"

Age: 25
Hayden, Idaho

Self-amputated hand
January 5, 2008

This man saw a mark on his hand he hadn't seen before. Based on Matthew 5:30 and Revelations 14:9, he decided to cut off his own hand and microwave it. Read more
---
"Jordanian woman"

Age: 30
Shuneh, Jordan

Murdered by her father
January 7, 2008

Even though she is 30 years old, her father objected to her dating in this very conservative Bedouin town. He confessed to killing her to "cleanse" his family's honor. He was charged with murder. Read more
---
"Aisha Salim" & 24 other women

England

Painful "revirginization"surgery
2005 - 2006

Muslim fundamentalists insist that women be virgins when they marry. Many women in England are undergoing painful "revirginization surgery" that costs up to £4,000, simply to meet this expectation. Read more
---