---
---
---
---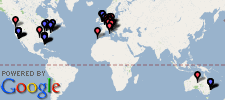 For more on this topic:
368,379 people killed, 306,096 injured and over $2,815,931,000 in economic damages


What's the harm in Scientology?
Scientology is a religion founded by science fiction writer L. Ron Hubbard. Many consider it to be a cult. Read more about Scientology
Here are 54 people who were harmed by someone not thinking critically.
---
Konrad Aigner

Age: 43
Weiler Rumannsaigen, Germany

Died, lost $300,000
August 11, 1997

Konrad was a Scientologist for 22 years, donating thousands of dollars to the church. When he died mysteriously of multiple organ failure, his family was left in debt. German authorities raided the church offices to investigate. Read more & more
---
Christopher Arbuckle

Age: 25
Portland, Oregon

Died
October 26, 1991

He was taking a Scientology "Purification Rundown" which involved extreme exercise and vitamin megadoses. He died of liver failure and his parents filed suit against the church. Read more
---
Gerry Armstrong

Los Angeles, California

Sued, harrassed, bankrupted
1982 - present

A former member of the Church of Scientology, he left and became an active critic of the church. In response, the church harrassed, terrorized, threatened and sued him, driving him into bankruptcy. Read more & more
---
Kaja Bordevich Ballo

Age: 20
Nice, France

Suicide
March 28, 2008

The daughter of a Norwegian Member of Parliament, she was studying in France and decided to take a personality test at a storefront Scientology center. She found the results "devastating" and committed suicide hours later. Read more & more
---
Jason Beghe

Age: 48
Los Angeles, California

Spent $1M on Scientology
April 2008

An actor, he quit Scientology after 12 years when he realized the Church's practices were harmful. In a long interview posted on the internet, he explains his concerns. Read more & more & more
---
Adam Bird

London, England

£34,000
1994

A nuclear physicist, Adam sought out Scientology to help with his dyslexia. He paid them thousands borrowed from banks, and had church members lodging in his house. "They took over my life." Read more
---
Gabriella Bramucci

Age: 55
Italy

Died (untreated cancer)
August 6, 1997

Her husband unsuccessfully tried to pull his family out of Scientology. She believed the church taught her that all illness was psychosomatic. When she finally was hospitalized her breast cancer had spread to her liver and was incurable. Read more
---
Kyle Brennan

Age: 20
Tampa, Florida

Died
February 17, 2007

Kyle's father was a Scientologist, but he wasn't. Kyle took Lexipro to control his depresssion. Visiting his dad, he was found dead. Allegedly his father called the Church first before calling an ambulance, and that Kyle's medicine was locked away. Read more
---
John Buchanan

Munich, Germany

Committed suicide
May 2, 1994

A Scottish landscape gardener working in Germany, he accumulated huge debts to pay for church materials and courses. He committed suicide to escape these debts. Read more
---
Tory Christman

Los Angeles, California

Abused & harassed after leaving Scientology
1969 - July 2000

She had reached a very high level in Scientology, working in the office tasked with silencing critics, when she became disillusioned with the church. She left, and the church went after her as a "Suppressive Person". Read more & more & more
---
Richard Collins

Age: 24
Bristol, Avon, England

Suicide
August 9, 1996

He left Scientology, but church members besieged him with telephone calls and letters to lure him back. He jumped from a suspension bridge to his death. Read more
---
---
Roberto Deplano

Age: 20
Cagliari, Sardinia, Italy

Suicide
February 18, 1997

Desparate because he owed millions of lira to the Church of Scientology, he committed suicide. A former executive of the church (and his cousin) was later sentenced to 4 years in prison for extortion. Read more
---
Jocelyne Dorfmann

Age: 34
Grangey-sur-Ource, Dijon, France

Died (untreated epilepsy)
1984

At a Narconon center (run by Scientology), Jocelyne was taken off the medication that controlled her epilepsy. When she had seizures, they assumed it was withdrawal symptoms. After she died, the center was closed & charges filed. Read more & more
---
Paride Ella

Age: 22
Grassobio, Bergamo, Italy

Died
February 19, 1995

Just beginning Narconon treatment, he endured 5 days of agony including vomiting and diarrhea. He was taken to a hospital and died. Read more
---
Dennis Erlich

Clearwater, Florida

Burst appendix, hyperthermia


Two weeks after finishing a "Purification Rundown" in Scientology, his appendix burst. He also suffered hyperthermia and frequently breaks out in sweats since then. Read more & more
---
Peter E. Frei

Age: 37
Dunedin, Florida

Died
June 1988

His body was found floating, fully clothed, off the Dunedin shore. His wallet was missing and his apartment back in Switzerland had been burglarized. He had been a member of Scientology. Read more
---
Roxanne Friend

Los Angeles, California

Kidnapped, lost $80K, Died
1992

While she was a Scientologist, she was refused medical care and held against her will. She escaped and sued the church, which settled out of court. By the time she escaped her cancer was incurable. Read more & more
---
Gary Fry

London, England

£21,000
1993

He said he was so disoriented by Scientology procedures, they got him to sign a blank piece of paper. It cost him thousands. He went to court and got the money returned. Read more
---
Philip C. Gale

Age: 19
Boston, Massachusetts

Suicide
March 13, 1998

Philip was a promising student at MIT who was raised in Scientology. He committed suicide by jumping from a classroom building, on L.Ron Hubbard's birthday. His friends and classmates could not understand why. Read more
---
Mrs. Robert E. Geary

Medina, Ohio

Hallucinations, nervous breakdown
May 1988

When she lost sleep and had hallucinations during a "Purification Rundown" others in Scientology told her this was a good sign. Later she suffered a nervous breakdown and was hospitalized. Read more & more
---
Josephus A. Havenith

Age: 45
Clearwater, Florida

Died
February 25, 1980

A Dutch music teacher, he came to Florida to pursue Scientology. He began an extreme vitamin and mineral program prescribed by the church. He was found dead in his bathtub, immersed in water so hot that it had taken the skin off his body. Read more
---
Isaac Hayes (musician)

Age: 64
Cordova, Tennessee

Income disrupted
March 2006

According to Roger Friedman, it was representatives of Scientology that forced him to quit as Chef on "South Park" when the show lampooned the religion. "Isaac's income stream was severely impaired as a result." Read more
---
Gregg Housh

Boston, Massachusetts

Harrassed in court
April 2008 - present

His name was on the permits for the peaceful Anonymous demonstrations at Scientology in Boston. Because he is one protestor that can be identified by name, the church has filed spurious charges against him including one not enforced since 1806. Read more & more & more
---
Albert Jaquier

Age: 59
Geneva, Switzerland

Died broke, out $833,913
December 11, 1994

He gave Scientology almost all his money, but in the end he died broke, alone and in ill health. His diary is online. Read more
---
Noah Antrim Lottick

Age: 24
New York City, New York

Suicide
May 11, 1990

Noah committed suicide clutching $171 in his hands, his only remaining money. He had spent everything else on Scientology in just 7 months. No representative from the church attended his funeral. Read more & more
---
Wilhelm Mack

Age: 37
Grossbettlingen, Germany

Alleged suicide
1993

In just five weeks he had spent over 70K DM for courses and materials from Scientology. He regretted his involvement and wanted to leave the church. He was found hanged in his garage. Read more
---
Lisa McPherson

Age: 36
Clearwater, Florida

Died (untreated psychiatric disorder)
December 5, 1995

Lisa became a Scientologist at 18. She had psychological issues which were treated using the precepts of the church. When she died she was underweight, severely dehydrated and bruised. Charges were filed and later dropped. Read more
---
Susan Meister

Age: 23
Casablanca, Morocco

Alleged suicide
June 25, 1971

Originally from San Francisco, she was aboard a Scientology ship docked in Morocco when her body was found with a bullet wound to the head. There was no coroner's investigation of the death and many strange circumstances surrounding it. Read more & more
---
Robert George Mills

Age: 42
Los Angeles, California

Suicide
April 16, 1989

He achieved a high level in Scientology, and then moved to Nova Scotia. There he was accused of sexualling abusing a girl. He committed suicide. His story is illustrative of how Scientology can ruin lives. Read more
---
Roger Nind

Age: 49
Australia

Died
October 1992

He travelled to Clearwater, Florida to get a refund from Scientology. He was killed in an accident the day after he arrived. Read more
---
Andreas Ostertag

Age: 38
Stuttgart, Germany

Died
1985

He was head of the Scientology mission in Stuttgart. He apparently drowned while swimming off Fort Desoto Park in Florida. Reports in Germany raised questions about the circumstances of his death. Read more
---
Michael Pattinson

Age: 57
Paris, France

Lost thousands in Scientology
1973 - 1997

Scientologists claimed they could cure him of being gay. During his time in the church, they charged him over half a million dollars. Read more & more
---
Elli Perkins

Age: 54
Buffalo, New York

Murdered by untreated schizophrenic son
March 13, 2003

She was trying to treat her schizophrenic son with vitamins instead of medications, per the instructions of Scientology. He eventually murdered her on L. Ron Hubbard's birthday. Read more
---
Jeremy Perkins

Age: 28
Buffalo, New York

Murdered his mother (untreated schizophrenia)
March 13, 2003

His Scientologist family opposed treating his schizophrenia with drugs. Instead, a Scientologist osteopath recommended vitamins. He murdered his mother on L. Ron Hubbard's birthday. He was found not guilty by reason of mental disease. Read more
---
Heribert Pfaff

Age: 31
Munich, Germany & Clearwater, Florida

Died (untreated epilepsy)
August 28, 1988

His Scientologist doctor prescribed only vitamins for his epilepsy, despite regular attacks. Eventually he had a heavy attack and hit his head on a night table, and died. Read more
---
Rodney Rimando

Age: 22
Los Angeles, California

Suicide
November 25, 1986

He lived, ate and breathed Scientology, and traveled to Los Angeles to study it further. He fell to his death from the sixth floor of a church building in Hollywood. His mother said the suicide note found was not in his handwriting, and sued. Read more & more
---
Carrie Slaughterbeck

Age: 23
Clearwater, Florida

Died (untreated heart condition)
March 27, 1997

A prominent Scientologist convinced her to take algae capsules. Carrie had an irregular heartbeat, and died of a heart condition that the algae may have exacerbated. Church officials denied she was a member until shown her certificates of attendance. Read more
---
Guissepe Tomba

Age: 26
Solaro, Milano, Italy

Died
February, 1995

Just beginning Narconon treatment, he endured days of agony including vomiting and diarrhea. Then his heart stopped. Read more
---
Patrice Vic

Age: 31
Paris, France

Suicide
March 24, 1988

He could not scrape together the 30,000 francs he needed for hs next purification in Scientology. This weighed so heavily on him, that he committed suicide. The case led to a criminal complaint against the church. Read more & more
---
Kathryn Walicki

Age: 15
Revesby, Sydney, Australia

Murdered
July 5, 2007

Her sister suffered from a psychiatric disorder, but the family allegedly took her off her medication due to their belief in Scientology. Now she is dead. Read more
---
Linda Walicki

Age: 25
Revesby, Sydney, Australia

Charged with murder
July 5, 2007

She suffered from a psychiatric disorder, but her family allegedly took her off her medication due to their belief in Scientology. Now her father and sister are dead, her mother seriously injured. She faces murder charges. Read more
---
Michael Walicki

Age: 52
Revesby, Sydney, Australia

Murdered
July 5, 2007

His daughter had a psychiatric illness, but the family allegedly took her off medication due to their belief in Scientology. Now he and his other daughter are dead. Read more
---
Sue Walicki

Age: 52
Revesby, Sydney, Australia

Seriously injured (stabbed)
July 5, 2007

Her daughter suffered from a psychiatric disorder, but the family allegedly took her off her medication due to their belief in Scientology. She was seriously injured in a stabbing and her husband and other daughter are dead. Read more
---
Jerry Whitfield

Cape Coral, Florida

Liver failure
1997

Jerry had undergone a "Purification Rundown" as a Scientologist, and later discovered it had caused permanent liver damage. Read more
---
---
Margarit Winkelmann

Age: 51
Zurich, Switzerland & Clearwater, Florida

Suicide
January 11, 1980

She ceased taking Lithium and replaced it with vitamins and minerals as recommended by Scientology. She walked fully clothed into Clearwater Bay and drowned herself. Read more
---
Lawrence Wollersheim

Los Angeles, California

Emotional injury, $8M damages
May 9, 2002

After he quit Scientology, he sued the church for emotional injury. The case dragged on for years. The court ruled the church's practices are harmful, and the church paid out millions in damages. Read more & more
---
"Federica X"

Age: 33
Torre dell'Orso, Meledugno, Italy

Died
October 11, 2002

Federica complained of stomach pains while at a Narconon center, a few days later she was dead. Read more
---